2022 Kubota Dealer Excellence GOLD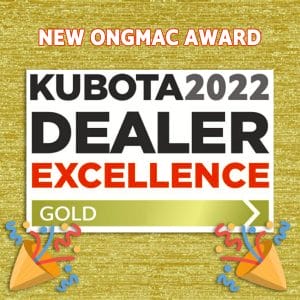 Ongmac is proud to announce that we have been awarded the prestigious 2022 Kubota Dealer Excellence Gold Award for our unwavering commitment to meeting Kubota's stringent sales and service standards.
As a dealer, we have continued to uphold our high standards of professionalism across all areas, as evidenced by our successful expansion of the Kubota brand and marketing in 2022. We have also seen significant growth in our sales of new machines and parts, thanks to our exceptional stock availability and readiness to serve our customers.
Our Kubota Servicing has received a 5-star certification, which reflects our dedication to providing high-quality services, maintaining excellent customer satisfaction levels, and continually training our staff to ensure they deliver top-notch service at all times.
What does this mean for our valued customers? It means that we have not only met your expectations but have also proven to Kubota Australia that we can represent their brand faithfully with clear communication, right presentation, and superior after-sales service.
We strive to foster relationships built on people, product, and partnerships. This recognition of our unwavering commitment to the Kubota brand demonstrates why we are the go-to dealer for farming and agriculture in the Lismore, Northern Rivers region.
We sincerely thank our customers for their continued support and invite you to celebrate this award with us. May we continue to build upon our successes and make 2023 a year to remember.
 Questions, Orders or Feedback? Call us direct 02 6621 5981